Short Break-Baucau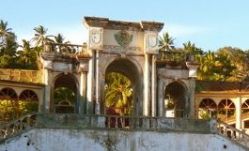 Conheça parte do litoral norte e do património histórico colonial de Timor.
Programa de 3 dias e 2 noites.
Pack code: P301_MST'12/P3-TSB-BCU
Day 1
Arrival DILI (D)
Upon arrival at Dili Airport, meeting & welcome service; transfer to your selected hotel in Díli.
A three hours city tour will take you to the main monuments and symbolic spots of the city, such as the Farol residential quarter and the new residential zone of Praia dos Coqueiros where the main embassies ar e located, the Dili "Tais" market, the Government Palace, the Casa Europa (a former colonial garrison), the Santa Cruz cemetery, the Dili Cathedral and the statue of Christ (Cristo Rei) located at the White Sand Beach. After dinner in a local restaurant, return to hotel for night stay.

Day 2
DILI – BAUCAU – VENILALE - DILI (BL)
08H30 - After breakfast, travel East along the nor the coast of country with its beautiful coastal cliffs; stop in Manatuto for a quick t our and have the chance to view some local arts and crafts; climb to Saint Anthony view-point and have a 3600 view of Mana tuto
area; proceed to Laleia and visit one of the most ancient Portuguese style Catholic church, built in 1933. Arriving at Baucau, enjoy the beauties of this second most important city in TL; go to the beach for a swim or stretch your legs by the local market before lunch at the lovely Pousada de Baucau.
After lunch, continue to Venilale, land of well-known native noble families, stop and visit the School of the Kingdom of Venilale and the caves dug by the Japanese Army during the World War II.
Return to the hotel in Dili to arrive by 18H30.
Dinner and remaining time at your own.

Day 3
Departing DILI (B)
At leisure up to time of transfer to the airport for departure formalities.
End of our services!
Comentários